Landing Party of Legend
Controls (click in the game window to gain control):
Arrow keys: navigate
X: primary button (x)
Z: secondary button (o)
Note: The audio lags a bit in Firefox.

---
Landing Party of Legend
"Dead people are going to die."
You are a starship captain... but are you shrewd enough to direct your landing parties through the perils of nine mysterious worlds?
Welcome to Landing Party of Legend, a lite RPG of campy, red-shirt-style attrition. You and several other famous and notorious people from history have escaped your captors and are trying to make it back to Earth (without too many casualties) so that the world may know your tale.
Features unique stats for each character... and not much else... except, maybe, the penguins!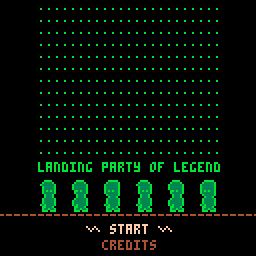 Based on the text-mode game, Landing Party (started on a TRS-80 in 1983), by Rick Pitel. Original content used by permission. Last version by Rick Pitel found here:
https://archive.org/details/msdos_Landing_Party_1989

Alpha testing release notes
Only content for the first planet is written, with 100% recycled content for the other 8 planets at the moment (mashed up in various ways). The goal is 25% new content for each planet with various mashups of base content and ramping difficulty (which includes making the first planet easier).
A couple more interaction types and humor points are coming as well. I ran out of code space to add them to the story processor but have plans to do another cartridge split to make room for them.
Please leave testing-related comments in the Development Log. Leave general comments on this main page.